Car & Van Tyres
Tyre Maintenance offer a wide range of tyres for car, van and 4×4 vehicles from all major tyre manufacturers, at prices to suit your budget. We offer also essential husbandry services including puncture repairs and wheel balancing to prolong the life of your tyres. 
Why not come in for a FREE tyre check? No appointment necessary!  Our expert tyre technicians will take care of everything. In the meantime here are some quick checks you should carry out each day to ensure your onward journey is as safe as possible:
Are your tyres correctly inflated to the right pressure for your vehicle and its load?
Are the tread depth of the tyres at least 1.6mm deep?
Are there any cracks, damage or bulges to the side walls of the tyres?
If you would like to know more please call into your local Tyre Maintenance branch to hear the advice of our expert technicians. You can also get a tyre quotation below right now.
2

Choose a Search Option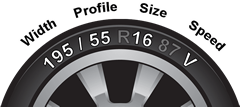 See How Tyre Maintenance Could Be Part of Your Business
We are set up ready to take your call to discuss how we might be able to help your business.