We have a wide range of car & van tyres available at all our locations and our team is on hand to help you make the right decision.
We have an extensive range of services we offer here at Tyre Maintenance, so please click on the button below to find out more.
Are you interested in becoming a Tyre Technician?
Get in touch today and start your career journey with Tyre Maintenance!
2

Choose a Search Option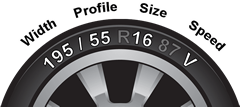 Welcome to Tyre Maintenance, Your Trusted Fleet Service Partner
Tyre Maintenance are able to offer a fully comprehensive tyre and related service package to our customers available 24 hours a day 365 days a year. We provide a complete tyre management solution with tailor made contracts to suit all of our customer needs, supported with accurate and precise management information to ensure maximum productivity within the fleet.
We are committed to sourcing the right tyre at the right price for both our car and commercial customers and stock a wide range of tyres to suit various vehicle applications and budgets. It's our faith in the quality of our people and the service that we provide that enables us to offer the lowest operating costs per mile, minimise unscheduled downtime, and as tyre condition has a major effect on fuel efficiency, help to reduce fuel costs too.
Our fully equipped service vans and professional technicians ensure in the event of a roadside breakdown, you experience minimal downtime and a rapid response wherever the location. When choosing tyre maintenance our customers are not only assured of tyres that meet their budget and fitment policy, but they will also benefit from fleet inspections, maintenance programs, repairs and a rapid breakdown service across the UK and mainland Europe via Conti360° Solutions.
We offer comprehensive free of charge tyre checks at our depots and a drive-in service at all locations for both car and van and commercial customers – for further information visit "Our Services"
We look forward to finding the right tyre for you.
See How Tyre Maintenance Could Be Part of Your Business
We are set up ready to take your call to discuss how we might be able to help your business.